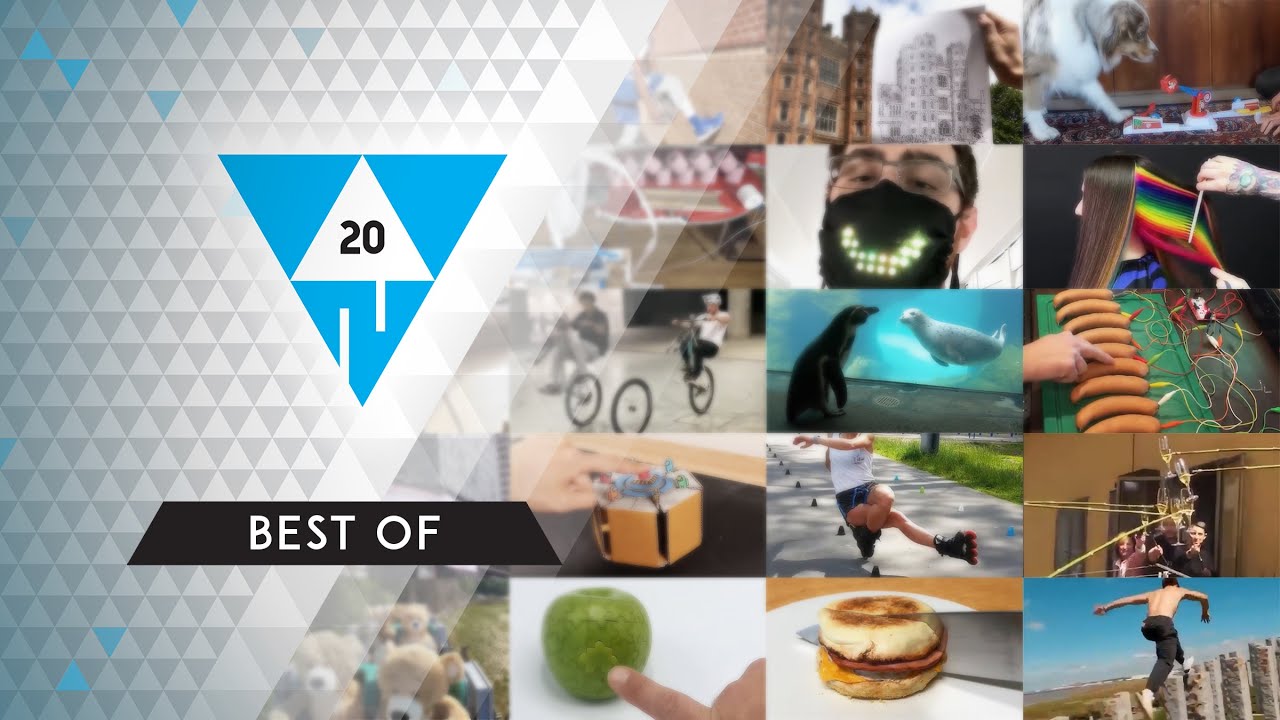 What a year this has been… When we wished you "an epic 2020!" at the end of our "Best of 2019" video, we didn't mean THIS. But we stood together and got through it, looking in a (hopefully) better futures. Along the way lots of people did lots of awesome things. Heartful gestures, amazing tricks, incredible art or subscribing to our channel. You guys brought fun into our otherwise pretty grey year – thanks for that! Thanks for all your comments, your mails, watching our videos and getting that 100K six days before the year ran out – you rock! And thanks to all that content creators who really did make 2020 a bit more epic. Without you we'd have all drowned in boredom and despair. Last but not least thanks to all those real heroes out there, fighting for humanity! ❤️

Here are the – in our subjective view – best 100 clips from our 12 monthly WIN Compilations, plus 4 great clips you haven't seen before on this channel. All together we presented you 733 clips with a runtime of 145:32 minutes (so around a good two-and-a-half-hour movie) of 2020 videos – plus some bonus compilations with old footage. We kind promise you anything, but we want to keep bringing you the best moments of the web in high quality videos. If you happen to have any feedback, constructive critique or anything – let us know in the comments! Also, if you have a wish for the color of the year 2021… 🎨

Enjoy & share! And stay safe! ❤️
Subscribe for monthly WIN & Support us on Patreon!
Curated by wihel.de and langweiledich.net.
01. Burnt Toast (via) (NEW)
02. Starting 2020 with perfectly timed "I am Iron Man" // Sydney Fireworks 2020, Happy New Year! (via) (JAN)
03. Once In a life time basketball Trickshot(JUL)
04. Baby's first taste of ice cream 🍦 (via) (FEB)
05. [email protected]_6885758933764525313 (via) (NOV)
06. How to Do Smoking Fingers Trick (via) (JUN)
07. Nicolai Geertsen – Lyngby – FIFA Puskas Award 2020 contender (via) (DEC)
08. This took almost ALL DAY but wait till the end to see if you can figure out what I was going for(JUL)
09. After months growing my #hair for the first time in 10 years I had to ask my #boyfriend to #shave my #head again… (via) (AUG)
10. Half Court Buzzer Beater || ViralHog(FEB)
11. Ew he rides a scooter(SEP)
12. Amazing Apple Puzzle (How to Make) ✔ (via) (DEC)
13. Crazy Trickshot (via) (FEB)
14. Saturday's pepper session 🐶🏐 (via) (MAY)
15. Knuffelberen in #UNTAMED 🤣 – Walibi Holland (via) (JUN)
16. Home Office – Fabio Wibmer(JUN)
17. Amazing Giant Jenga Golf Trickshots| Holein1trickshots (via) (FEB)
18. It worked!!!! Only Just Getting Started. (via) (OCT)
19. スーパーマリオブラザーズをヴァイオリンで演奏してみた★10年ぶり^^Super Mario Bros. Violin Cover (via) (JUN)
20. Popcorn (via) (JAN)
21. 😂(APR)
22. Typewriter Art for Essex Vol. 2 (via) (OCT)
23. THIS EGG MCMUFFIN IS A CAKE?? | Hyperrealistic Cakes (via) (AUG)
24. Girl Creates Satisfying Handprint Pattern In Carpet(JUN)
25. The Dinner Feeder – How To Get More Work Done At Dinner(FEB)
26. I Turned a 1920's Typewriter into an EDM Drum Machine (via) (MAY)
27. I thought I bricked until…(NEW)
28. Building the worlds longest SKATEBOARD!! 25 feet!! (via) (SEP)
29. "Tell me again, what instrument do you play?" (via) (FEB)
30. Guy Amazingly Jumps and Does Backflip to Kick Board Held Four Meters High – 1098730 (via) (FEB)
31. 👾👽👺👺👆🏻💫⚽🏀(OCT)
32. Jon Rahm skips to a hole-in-one on No. 16 | Masters Tuesday (via) (DEC)
33. ❤️🐶❤️ (via) (MAY)
34. Discovered a new use for ur pano mode. #longhotdogchallenge 🌭🌭🌭🌭🤤 (via) (AUG)
35. 84 year old Mary Ann Wakefield sinks 94 foot putt to win a new car (via) (MAR)
36. Kobe/Shaq Alley-Oop Every Time You Roll Up the Window (via) (AUG)
37. What prevents you from doing this? (via) (SEP)
38. Billy's (Bowling) Balls (via) (MAR)
39. Anche #Agrigento #restaacasa. (via) (APR)
40. This is McMesmerizing @20dollarchef (via) (MAY)
41. Drumming Duck Drops Beat with a Snare || ViralHog (via) (FEB)
42. Stickmatch (via) (JUL)
43. #Oaxaca | #Cuenca Filmkamera Compañeros de Alexander lo despiden, mete su último gol. (via) (JUL)
44. Nacho the Penguin Meets Marine Mammals (via) (MAY)
45. How to make pasta spin endlessly – Infinity Pasta Magic experiment (via) (SEP)
46. it's called the Shepard Illusion (via) (JUL)
47. 2019 Pashkour ! 😊 2020 will be better I promise 🙌 (via) (FEB)
48. Super Mario Bros. Theme on 2 Credit Card Machines (via) (APR)
49. Busy Parent Plays From the Fourth Floor || ViralHog (via) (MAR)
50. This Amazing Sitting Bull Portrait Made from 20,000 Dice (via) (FEB)
51. Woooooooooo! (via) (DEC)
52. How I Deal With Kids Playing in My Driveway | The Saga of My Driveway Racetrack (via) (SEP)
53. 🖤 toe back cristie full line (via) (NEW)
54. Maybe the greatest airport reunion ever (via) (FEB)
55. blindfolded 🤭 STILL GOT IT (via) (MAY)
56. The Quarantine Machine (via) (MAY)
57. 🎩 İftiharla sunar. @KPBofficial(JUL)
58. They did. The crazy bastard actually did it! (via) (MAY)
59. ❤️Manchmal sind es die kleinen Dinge, die eine große Wirkung haben. 😍(JUL)
60. Cheeky little banger I got at the Bikelife Circus Training Ground last night! (via) (DEC)
61. Neue Erdgasleitung am Rande von Mönchengladbach bei mir umme Ecke(JUL)
62. floor is lava – STAY AT HOME PARCOUR (via) (APR)
63. Super Mario Rubik's Cube Stop Motion (via) (MAY)
64. Dad uses 100% of brain 2 (via) (OCT)
65. Run, slide, throw. (via) (AUG)
66. No Look, "Thats Cash" , Straight🔥🔥 (via) (JUL)
67. Teen Skateboarder Amazing Flip Trick(MAR)
68. Auch in dieser schwierigen Zeit gibt es pure Lebensfreude. Der erste Weidegang unserer Kühe. (via) (APR)
69. @guidof7 @peixinho_98 foi sorte (via) (NOV)
70. If your dog doesn't like his dog food, try this trick! (via) (SEP)
71. Styrofoam box jumped back into the van… Twice ! (via) (JUL)
72. @realdonaldtrump Thanks for the check, need a hairstylist? 🙂🤷🏻‍♂️ (via) (MAY)
73. Bill Murray with the best thing you'll see today. Just wait for the club flip 😂 (via) (MAR)
74. Tyler Glaiel Face Mask(JUN)
75. Free the birds! (via) (AUG)
76. my daughter is terrible at hide and seek (via) (OCT)
77. Took 3 days but FINALLY hit it! Bet you can't guess what's in the cup (via) (JUN)
78. Regenbogenhaar (via) (AUG)
79. Geneva's streets get shattered glass artwork | AFP (via) (NEW)
80. Man Puts Googly Eyes On Products Whilst Shopping (via) (OCT)
81. WATCH NOW ❗❗❗ Samsung LED cube display In Chengdu, China | Creating a Naked Eye 3D Visual Effect 🔥 (via) (NOV)
82. Incredibly creative road in Holland where the right speed produces the correct key (via) (FEB)
83. her reaction 😂 (via @rachaelmarieeeeee) (via) (MAY)
84. Introducing the cuddle curtain #lockdown #COVID19 #(JUN)
85. Zur Lage(SEP)
86. 18×Jayjinho at its best-Its pure #trickshots #cardshot(OCT)
87. Can't believe anything(DEC)
88. In a day or twOoOoOoOoOo. Take On me – a-ha(APR)
89. Cat helps for the Pool Trick Shot (via) (OCT)
90. Just Monkey the dog! parkour (via) (DEC)
91. Tetris de cartón (via) (AUG)
92. BREAKING: @gui_khury just became the first skateboarder in history to land a 1080 on a vert ramp! (via) (JUN)
93. Ventor from Kreator playing the Biggest Drumkit in the World at Turock in Essen, Germany (via) (OCT)
94. Later Sydney 👋 Will be back again soon(MAR)
95. Das Bockwurstklavier (via) (SEP)
96. Playing Looping Louie with my dog! (via) (MAY)
97. Making Among Us EMERGENCY MEETING button Automatic with Cardboard | DIY(NOV)
98. Residents at Bryn Celyn Care Home in #Maesteg, Wales have been keeping themselves entertained and active during tough times by playing #HungryHippos! (via) (APR)
99. How to make a piano from popsicle sticks that actually sounds good (via) (JUL)
100. A microscope look at the DualSense controller. (via) (DEC)
101. Shadow Play 🏐 #beach #volleyball (via) (SEP)
102. Where are my gamers at?! (via) (APR)
103. Balkonfeestje! #Blijfthuis (via) (MAY)
104. Christmas Wrenches/jingle bells (via) (JAN)
https://www.win-compilation.com/wp-content/uploads/2020/12/win-compilation-best-of-2020-vid.jpg
720
1280
Redaktion
https://www.win-compilation.com/wp-content/uploads/2021/01/WIN21-Banner.png
Redaktion
2020-12-29 20:01:29
2020-12-29 14:34:32
WIN Compilation Best of 2020 (Videos of the Year)