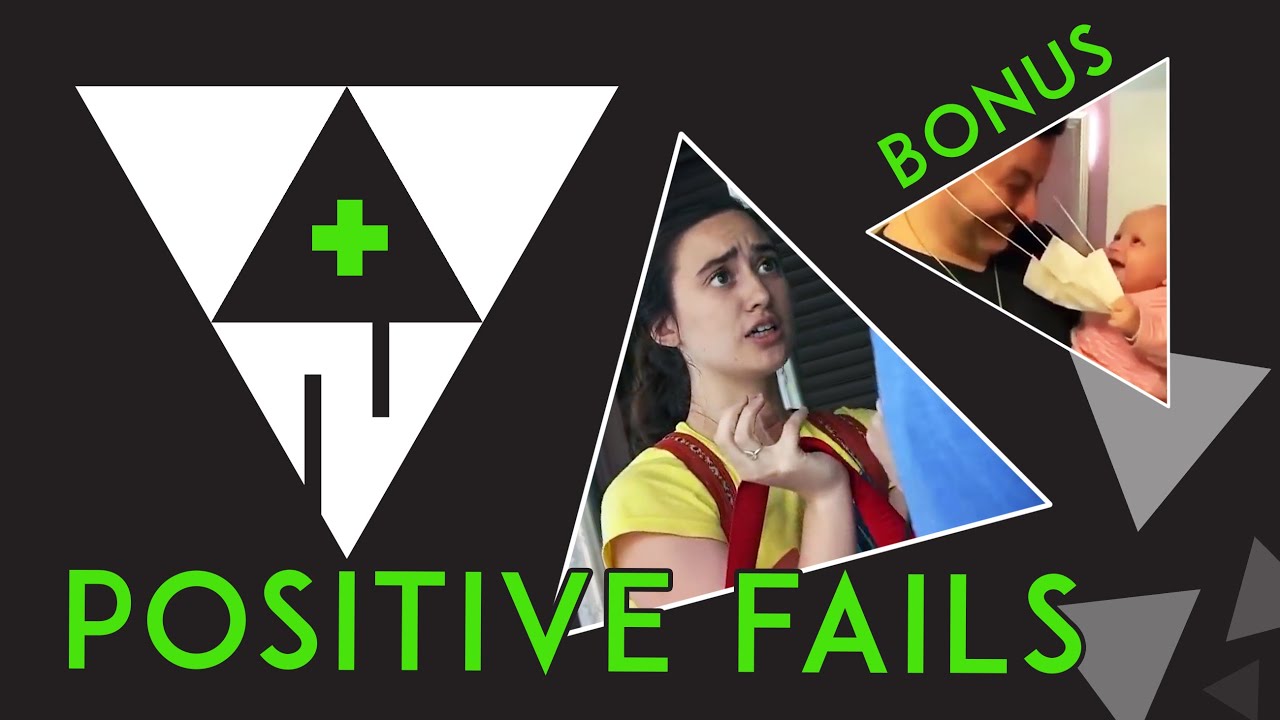 In 2018 our April Fool's prank was to show you a FAIL Compilation and that didn't really turn out positive… So this time, we just put this up as a mid-monthly bonus video and even did ask you beforehand. Only 4% out of 1.8K(!) of you voted for not doing one, 73% wanted us to. So here it is, a "Positive Fails Compilation" with some old time classics and some modern clips! We despise those fails where people really get hurt (that's why we started WIN Compilations in the first place), so here it's all about the fun that sometimes could even be argued as WINs. 51 in total with over 12 minutes entertainment, that might be around the funniest we ever curated for you! We hope you like it and don't resent it.

Enjoy & share! And stay safe! ❤️
Subscribe for monthly WIN & Support us on Patreon!
Curated by wihel.de and langweiledich.net.
01. Ever seen a chip shot hit with so much backspin that it lands on the goal line and doesn't go in?!? (via)
02. hold my beer while I'm teleconferencing (via)
03. This 14 month-old was helping his dad shovel in Newfoundland after yesterday's 15-inches of snowfall – when he glitched… (via)
04. Believe it or not, I don't always get what I want (via)
05. Beim nächsten Mal wohl besser genau umsehen.
06. i have been laughing at this since yesterday. please turn your volume up Gesicht mit Freudentränen
07. Priest in Italy live streams mass, activates filters by mistake (via)
08. Popeye's favourite food is… Chicken? | Family Feud Canada (via)
09. Four quarters an hour (quick math) (via)
10. Katzen. Feengleiche, graziöse Geschöpfe
11. WORST LIFE HACK EVER – guy opens beer bottles with iPhone
12. Laugh die me 🤣 (via)
13. Let my neighbors use my wifi (via)
14. IVE WATCHED THIS 20 TIMES AND IM STILL LAUGHING HAHAHAHA
15. "Why can't i stop dreaming about waffles" 🤣😂🤣 (via)
16. RIP my friend. This better blow like the Death Star (via)
17. So I pulled a tiktok prank on my adorable dad… (via)
18. Zoom Call while peeing in the bathroom. Be careful guys. (via)
19. FFS. Even the linesman knew it was coming. Gesicht mit Freudentränen (via)
20. Cat gets an egg (via)
21. Magie gegen Melancholie
22. Alcohol + Quarantine x Closed Barber Shops = shenanigans (via)
23. Und vielleicht liege ich seit Minuten vor Lachen auf dem Boden…
24. Name A Woman (Billy on the Street)
25. Hotels in London sind wirklich immer ein Abenteuer
26. Quand Bakayoko se trompe de changement 😁😅
27. What happens when your cat finds your hair tie?
28. Son's reaction to cow milking.. Priceless (via)
29&30. if someone could give me a scientific answer that would be great (via)
31. Watch until the end! A chocolate bowl cookery tutorial by my daughter Jersey, age 11!
32. 0.000000001% chance wii golf shot
33. Today my friends and I witnessed Siri having a stroke 😂😂 (via)
34. Perfect (via)
35. When your lack of sheepdog experience is cruelly exposed on your first day. (via)
36. The quietest dishwasher (via)
37. This is the aftermath of what appears to be freezing rain in Vladivostok Russia yesterday.
38. El @clubportugalete ya le ha dado su propio dorsal a ese travesaño (via)
39. When your first year of life is 2020, everything is a sanitization station
40. no please no
41. Cat slaps seal
42. A two-year-old's solution to the trolley problem
43. Baby pulls mask ❤️ (via)
44. Dog's epic reaction to owner after coughing😂😂😂 (via)
45. so cats are definitely flammable 😂😂😂 im dying at its reaction 😭
46. The Bubble Fart Blower Machine – Bubble Butt Blower (via)
47. The chicken goes (via)
48. The M&M's challenge (Joke) ! (via)
49. This Dog Is Terrible At Frisbee (via)
50. When church drummers won't listen ™️ (via)
51. Wife calls husband by his name (via)
52. 치즈분수 치킨과 함께 먹방…!! Cheese Fondue Chicken ASMR Mukbang Tasty Hoon (via)
https://www.win-compilation.com/wp-content/uploads/2021/02/bonus-compilation-positive-fails.jpg
720
1280
Redaktion
https://www.win-compilation.com/wp-content/uploads/2021/01/WIN21-Banner.png
Redaktion
2021-02-15 20:01:35
2021-02-14 12:15:54
Bonus Compilation: POSITIVE FAILS – Funny feel good failures | LwDn x WIHEL