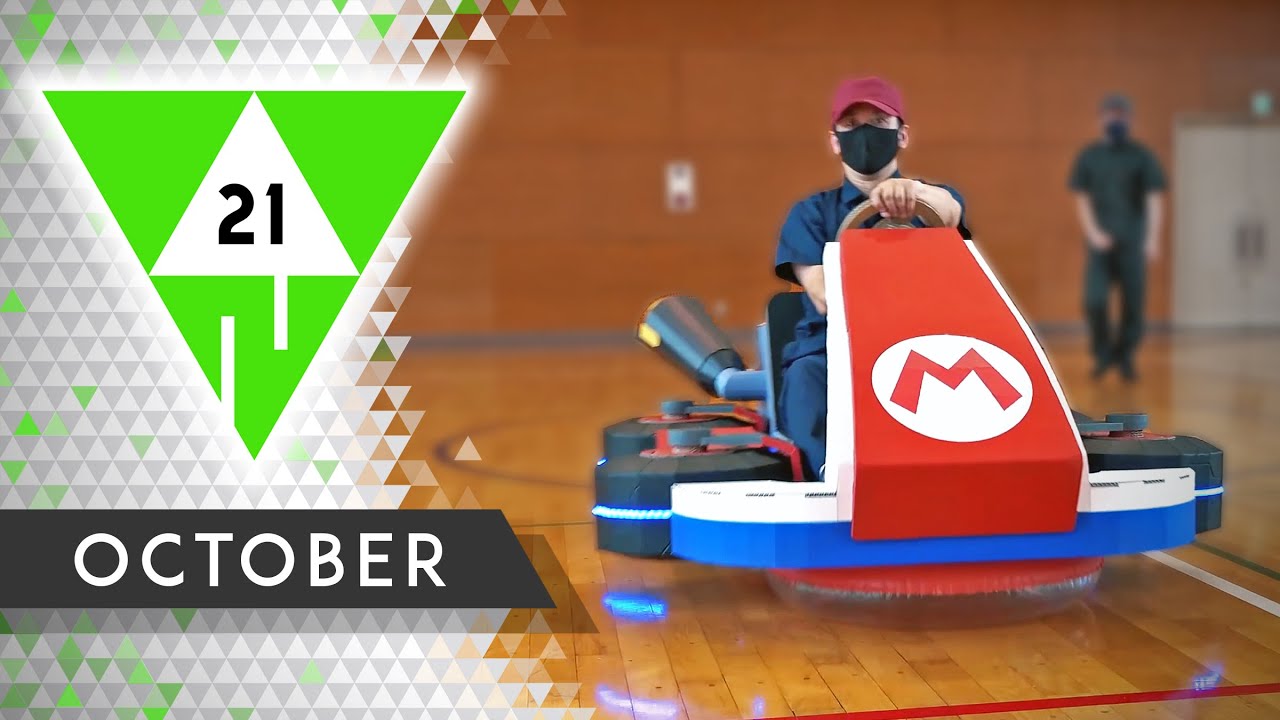 What a month this has been! Yeah, globally, but for us as personally as well, as we both went on vacations (seperately) and had a lot of other private things to do. Exciting for us and kinda excuses for a short compilation… Sorry, but this time we only found 41 worthy videos for you (to be honest even less, but we put some in that normally wouldn't have made the cut). But you nevertheless get over 8 minutes of high class entertainment and the promise, that our next compilation will feature more clips again.

Enjoy & share! And stay safe! ❤️
Subscribe for monthly WIN & Support us on Patreon!
Curated by wihel.de and langweiledich.net.
01. The real race we're here for! (via)
02. "Und wie war dein Wochenende so?" – "Hab von der Mittelline getroffen. 3 Sekunden nach Anpfiff." (via)
03. "Magic" Memory Metal Paper Clip | Nitinol Paperclip (via)
04. Farmer Plays Vegetable Billiards With Grandson
05. Drawing Three Characters at the Same Time (via)
06. Guy Opening a Bottle Using His Skateboard Jump Trick
07. 【MARIO KART】Making a Hovercraft with Cardboard (via)
08. GRAFFOMAT / spray can plotter (via)
09. Guy Throws a Card Into Spinning Scissors
10. Jack Russel Terrier Skateboarding in a Sunny Day
11. A mechanical table with a hidden table top for puzzles (via)
12. Juggler Balances a Cup and Performs Routines With 6 More
13. #turn #up (via)
14. Folding origami medieval knight [4K Time-Lapse] (via)
15. Guy Hits Golf Ball Mid Trampoline Jump
16. Another fun Commission Buffalo City Hall
17. "I made a HUMAN SLINGSHOT! (World record)" (via)
18. Thousand Ball | Amazing DIY Cardboard Craft (via)
19. TURBINE UMBRELLA HAT (via)
20. How do you even plan this (via)
21. Lego Technic – Driving Simulator – 4 Players (via)
22. We Turned Waste PPE into a Recycled Plastic BENCH (via)
23. "Alpine Descents || Northern California" (via)
24. Big ORIGAMI Puppets (via)
25. Careless Whisper by George Michael (via)
26. Guy Lands a Ping Pong Trick-Shot Bouncing off 2 Objects
27. Bunny sploot (via)
28. I can now ride my onewheel, play the sax, and pick up trash, and this isn't even my final form! (via)
29. Just causally get hyped up by the band (via)
30. No Stopping cacadu corrella GIF (via)
31. ROXYCLE Racket man 噴射引擎公路車 (站在子彈上的男人) (via)
32. Playing massive jump rope (via)
33. 大安森林公園 喜愛音樂的鵝 (via)
34. The Lo Res Car Is a Truly Insane Vehicle — and I Drove It! (via)
35. Well this may be the craziest thing I've seen at a college football game #HardRockCat (via)
36. Pencil art (via)
37. Delivery bike gets boxed in by car (via)
38. What Dogs Do When You're Not Looking | RingTV (via)
39. The older guy didn't think I could pull off a Sam Cooke song #achangegonnacome (via)
40. James Bond Coffee Art Painting time lapse video
41. А вы знали что, сейчас в моде иметь длинные волосы?😀
https://www.win-compilation.com/wp-content/uploads/2021/10/win-compilation-october-2021-edi.jpg
720
1280
Redaktion
https://www.win-compilation.com/wp-content/uploads/2021/01/WIN21-Banner.png
Redaktion
2021-10-01 16:31:56
2021-10-01 09:50:44
WIN Compilation OCTOBER 2021 Edition | Best videos of the month September