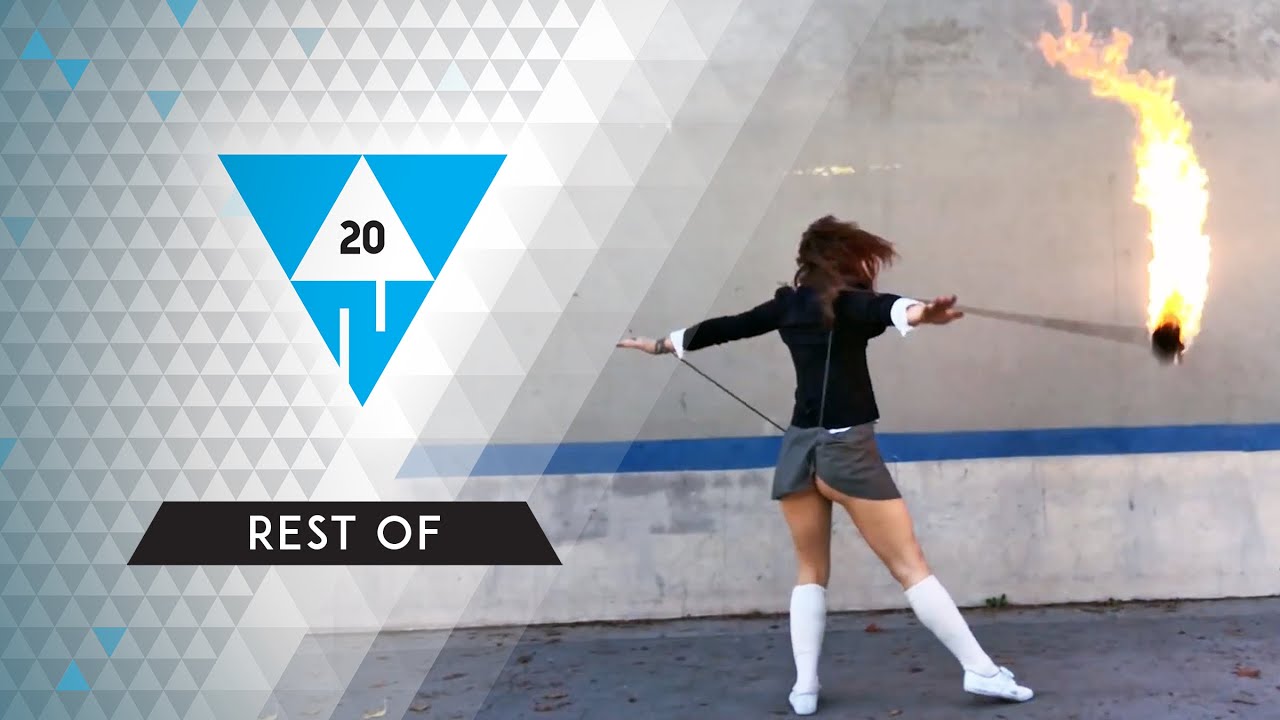 As you may know, we tend to only use new clips for our monthly compilations. Sometimes we get fooled by re-uploads, but normally, only videos which got published or went viral during the last month should be featured. Everytime we find a video that is a little bit too old for us, we save it – for our annual "Rest of"! Have fun with these 73(!) exquisite moments, we initially missed. But better late than never, right?! 🧐

ALSO: We are only in need of 500 more subs for our goal of reaching 100K in 2020! 🥺 HELP US! 🙏

Enjoy & share! And stay safe! ❤️
Subscribe for monthly WIN & Support us on Patreon!
Curated by wihel.de and langweiledich.net.
01. Quarantine Pressure Washer Art (via)
02. Magpie_trades 3 bottle-caps for food. High definition (via)
03. How Many Potatoes Does It Take To Run DOOM? (via)
04. Opening the River ー ファスナーの船|鈴木康広 (via)
05. MEZERG – LE PIANOCOCKTAIL (via)
06. create amazing twisted doughnut – kkwabaegi / 경력 42년! 꽈배기 달인 / korean street food (via)
07. The Beachstie Boys (via)
08. Growing up as an asian kid in a western country always made me have this need to fit in.
09. American Hedgehog Warrior: Course 5
10. How To Build Your Own Wearable Robot? (via)
11. quarantine tricks part 8: rolling tinsica!
12. worlds first 8 flips…
13. Ping Pong LED Wall v3
14. Public Media Art #1_WAVE with Anamorphic illusion (via)
15. Using magnets to drift toy car (via)
16. Mumi – Nothing Else Matters (handpan cover)
17. Supernumerary 3DOF Robotic Arm (via)
18. 電磁祭囃子 in NEO TOKYO 2020 🏮 (via)
19. Been dreaming of these shots ever since I started flying FPV…. And we got 'em! (via)
20. I made a Business Card that is overcomplicated (via)
21. How to build a Hidden Shelf Edge Clock – 3D Printable | Elegoo Arduino Nano | Smart Home | LED
22. Rubens Cupid (via)
23. リクエストでリザードンとピカチュウ描いてみた
24. Giant Red Fire Millipede (via)
25. #バズった #ホッチキス (via)
26. 55 Inches 🙆🏾‍♂️🚀🐰 (via)
27. Big Black Cow licking a ginger pussy. (via)
28. Apple puzzle. 🌈🍎 (via)
29. Building a Galloping LEGO Horse (via)
30. CAT WATCHING TOM AND JERRY (via)
31. Circulating Seal (via)
32. Dexterity Bonus to AC (via)
33. Circle Guitar – multichannel (hex) output, mechanical step sequencer, played like a piano – Demo 1 (via)
34. Did I just do that?
35. EL LISTO DEL DIA
36. Epic Indoor Golf Trick Shots!!!! – Volume 3
37. Hotshot: Benoit Paire fakes a smash to hit a dropshot winner (via)
38. Inside Out (via)
39. How physics works! (via)
40. Jon Bon Jovi Park Singing by a Guy (via)
41. Making a Mini Spring Bow (via)
42. Let me introduce you "THE PLANTYFLUTESIZER". (via)
43. Last time I landed a Yoda before this one was maybe 2 years ago and never landed one on a line that long ! (via)
44. Man Jumps Between Two Diving Boards
45. Hard bate that (via)
46. Kill Bill Fire Rope Dart Choreography (via)
47. Legal or Illegal Pitch (via)
48. Just Dance + Wake Me Up + Blue (Da Ba Dee) + Dragostea Din Tei + Boom, Boom, Boom, Boom!!
49. Monkey on a tree' Shaolin trick (via)
50. Mr Green & Mr Pink (via)
51. Paralyzed Athlete Shreds Central California Hills on Wheelchair Skateboard After Devastating 2016 Accident (via)
52. NBA theme song with pots and pans (4 days and 1,569 attempts) (via)
53. Quand t'as pas de schlitte
54. Man plays "Flight of the Bumblebee" on a toy piano at truly astounding speed (via)
55. Risky stuff 😅 with @danny_river_mason 🛹 (via)
56. Sciuridaes – Working From Home w/ Kids (via)
57. Senorita BeatBox Cover (via)
58. So my Dad made good use of his time in lockdown and built a huge laughing Kookaburra. (via)
59. Standing Double Backflip Third In World On Grass – Lub Lub
60. Starcatcher – Daniel Rosenfeldt (via)
61. The Harmonograph (via)
62. THE MOST BEAUTIFUL FINGERSCOOTER VIDEO I HAVE EVER MADE😻 (via)
63. The number of tries this must've taken… 😳
64. ust the king of flowers chilling in the garden like any other morning. 🦋🌸👑 (via)
65. You are never too old to ride BMX 🥳
66. Young fan finally beats Coyle in Rock, Paper, Scissors
67. 【炎刀】Flame + Slash 火炎斬り【炎舞】 (via)
68. The Last of Us Part 2 – Metallica(Nothing Else Matters) – Ellies Guitar
69. How effortless/lazy can i 360 flip
70. The most insane Headis Rally ever?!?! (via)
71. General Grievous Costume (via)
72. The Mandalorian Theme Song Cover (via)
73. This cat waving a passerby is the only thing you need to see today 😊
https://www.win-compilation.com/wp-content/uploads/2020/12/win-compilation-what-we-missed-i.jpg
720
1280
Redaktion
https://www.win-compilation.com/wp-content/uploads/2021/01/WIN21-Banner.png
Redaktion
2020-12-22 19:01:56
2020-12-18 08:57:38
WIN Compilation: What we missed in 2020… (Rest of) | LwDn x WIHEL